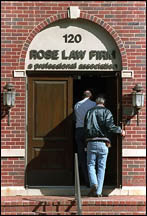 Since you need a username and password to get into the official Rose Law Firm web site (what are they doing there?!), here's a link to a little bit of info about the Rose Law Firm.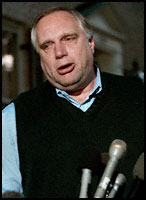 Don't even think of asking me to explain it all! Instead, I hunted down a bunch of articles (mostly from the Washington Post), as well as the Senate Committee's Whitewater Report, along with a conservative site which tracked down much evidence and a timeline put together by the Washington Post. There's also a link to a PBS web site that gives some indepth background on this.
Another must-read primer on Whitewater and its companion issues is Ann Coulter's book High Crimes and Misdemeanors. The Economist described her chapter on Whitewater as the best out there.
(Her book can be bought via the link above, or the No-2-Hillary Bookstore.)
In any event, it's important that all New Yorkers educate themselves about the events surrounding Whitewater, Castle Grande and the Rose Law firm -- and then it will be time for Mrs. Clinton to answer some serious questions. If she can't or won't, then she shouldn't run for office here (or anywhere).
NY Post: "Hillary Again May Be Tangled in Webb," (6/24/99)
CNN/AllPolitics: "McDougal: Hillary May Join Me in Jail," 6/11/97
Webb Hubbell's book excerpted in the Arkansas Times
Whitewater omens spell dark outlook for Hillary Clinton -- Nando.net, 6/18/96
The case against the Clintons, and how they respond -- Detroit News, 1/14/96

Untangling Whitewater -- Washington Post, 10/5/98
Indictment Claims Hubbells Lived Lavishly -- Washington Post, 5/1/98
Hubbell Got $700,000 for Little or No Work, House Probe Shows -- Washington Post, 4/24/98
Hillary Clinton and the Whitewater Controversy: A Close-Up -- Washington Post, 6/2/96
An Inquiry Swells From the Banks of Arkansas' White River -- Washington Post, 5/29/96
Caught in the Whitewater Quagmire -- Washington Post, 8/28/95
Starr Brings Third Indictment Against Hubbell -- Washington Post, 11/14/98
Prosecutors Question First Lady at Length -- Washington Post, 4/26/98
Clinton Aides Sought Help for Hubbell -- Washington Post, 4/2/97
Three Guilty in Arkansas Fraud Trial -- Washington Post, 4/29/96
U.S. Is Asked to Probe Failed Arkansas S&L -- Washington Post, 10/31/93
The Hearings End Much as They Began -- Washington Post, 6/19/96
Senate Committee's Whitewater Report -- Washington Post, 6/18/96 -- you'll need an Acrobat Reader, which can be downloaded for free
PBS - Frontline - for good background information
A Conservative site dug up quite a bit of hard evidence
And, FINALLY, a Time Line, from the Washington Post